Every morning, 13-year-old Marium collects fresh water for her family by taking a one hour trek down the steep hills of Chamankotli, a village in Azad Kashmir. Once she is back, she cuts wood for fire, prepares food, and cleans her home. While doing all this, she also attends to her mother's needs, who is confined to a charpoy (woven bed) due to paralysis. With no access to electricity, gas or water, every chore is arduous and there's no time to rest.
"The coronavirus crisis turned Marium's life upside down," shared Ms. Sania Javed, principal at the TCF school where Marium is a student. "Once the lockdown was enforced, her father lost his daily earnings as a labourer, and her mother suffered a paralysis attack. During this time, a marriage proposal came in for Marium's elder sister, who was only 15 at the time. The family accepted it and when her sister left suddenly, all responsibilities landed onto Marium's shoulders."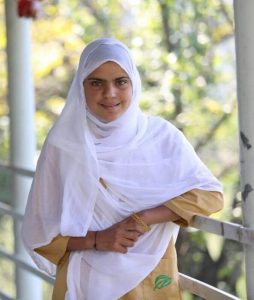 When schools reopened in September, Marium's father could not afford to send her back. Ms. Sania spent hours counselling the parents to let their daughter continue her education. It was only when she offered them flexibility in schools hours did they finally agree. For the first time in over 6 months, Marium returned to her classroom.
When she is in school, away from all of her worries and responsibilities, Marium sees a world full of possibilities. She dreams of becoming a teacher so she can support her family.
The coronavirus crisis has left thousands of vulnerable girls at the risk of early marriage and school dropouts. We are working hard to make sure that girls return safely to their classrooms. Your Zakat and Sadaqah for their education will help them continue their learning journey once again!